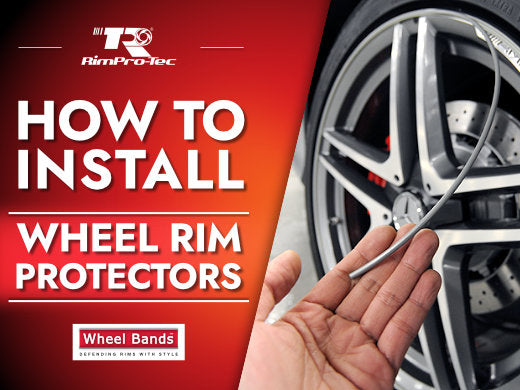 How To Install RimPro-Tec Wheel Bands
by: Deborah Chester -
How To Install RimPro-Tec Wheel Bands…
 RimPro-Tec's come in handy when you want to protect your wheels from curb damage. By making use of our rim protectors not only the edges of your wheels will be protected but you can also cover up minor existing damage. RimPro-Tec's help protect some of the best makes and models in the worldwide market giving the cars that little extra protection while improving the appearance and look of your car wheels. Our rim protectors are available in numerous different colors. You can select the one that matches with the shade of your car, one that stands out and adds a pop of color to your wheels or pick a color that matches your wheels so you can barely tell the RimPro-Tec is on there if that is the type of look that you want. With our RimPro-Tec Wheel Bands your wheels will stay protected while looking stylish for a long time.
 Protecting your rims doesn't have to be expensive and complicated. In fact it can save you money in the long run by not having to have your car wheels refurbished when you curb them. This is a big reason why it is important to install the RimPro-Tec's to your car wheels before you curb them. There is nothing to worry about if you have not fitted them before, our RimPro-Tec Wheel Bands are super easy to fit. Installation time can be varied based on your wheel design, wheel size and experience level of the person doing the fitment. A first time do-it-yourself installation takes about 25 minutes for a set of four wheels. A person who has installed rim protection on several cars can do an installation on a set of four wheels in 10 to 20 minutes or less by following the correct guidelines provided below. You have to ensure that you follow all the steps thoroughly though to make sure that your RimPro-Tec Wheel Bands adhere to your wheels correctly. Take a look at the step by step guide below to see just how easy it is to install a set of RimPro-Tec's.
Installation Steps:
 -Firstly, you need to thoroughly wash your wheels. All surface contact areas must be free from dirt, grease, wax, moisture and contaminants such as residual detergents. Then you need to allow your wheels to completely dry. While you are waiting for your wheels to dry it could be the perfect opportunity to gather your RimPro-Tec kit and all the tools you will need for the installation.
 -Secondly, you need to use the provided RimPro-Tec alcohol Cleaning Wipes to wipe the wheel rim surface.  This is to ensure that you have removed any left over residue or contaminates that may remain on the wheel rim. Now allow time the wheels to dry. All surfaces must be dry and free from moisture before applying the RimPro-Tec Wheel Bands.
 -Thirdly, You can now choose the location on the wheel rim that the RimPro-Tec base will adhere to, making sure that the entire surface of the rim is undamaged for the adhesive tape to be applied to. Now you can cut 5mm off each end of the base tracks to prepare for the installation of the RimPro-Tec's.
 -Now it is time to fit your set of RimPro-Tec Wheel Bands. Carefully peel off a small section of the backing from the tape. Gently press the peeled off end of the RimPro-Tec on to the desired part of the wheel rim. Make sure to hold the rest of the base track away from the wheel to prevent accidental adhesion. Also ensure that you do not handle the tape once the backing is removed as this could potentially reduce the adhesion.
 -Follow the contour of the wheel whilst removing the backing tape and pressing the RimPro-Tec base firmly in place as you move around the wheel and complete the circle. Once the two ends meet, carefully mark the RimPro-Tec base and using cutting shears cut the base to the desired wheel size ensuring both ends are flush together with no gaps. Run over the base with the RimPro-Tec fitting tool to ensure the base track is well fixed to the wheel.
-Now you insert your RimPro-Tec inner pinstripe into the base that has been applied to your wheel and cut it to size again with no gaps. Make sure that you stagger the joint of the base track and the joint of the inner on opposite sides of the wheel this is to ensure there is no weak joint on your RimPro-Tec's. Now run the fitting tool firmly over the RimPro-Tec's to achieve maximum adhesion.
 -Repeat the above steps on all four wheels and allow up to 72 hours for full adhesion of your RimPro-Tec's. Your car can be driven immediately after installation but do not wash your wheels for 72 hours once fitted to allow for full adhesion.
Benefits of using RimPro-Tec Wheel Bands:
-Our RimPro-Tec's are very easy to install and you can fit them yourself.
-They help to avoid costly wheel repairs from curb damage.
-The RimPro-Tec's come in a variety of color wheel band options so you can choose which color you want to use to compliment your car.
-You can pop out and replace the inners on the RimPro-Tec's.
-You can cover up minor existing curb damage with RimPro-Tec Wheel Bands.
-They are made from durable materials and cope in different weather conditions.
-Each comes with enough to fit RimPro-Tec Wheel Bands on a full car.
-You can buy spare kits in case you curb your wheel and need to replace one RimPro-Tec to save having to buy a full new kit.
-You don't have to take off your wheels to fit RimPro-Tec's
-RimPro-Tec Wheel Bands is the only two piece system design on the market. 
-RimPro-Tec Wheel Bands offers a Reflective Pinstripe For Cars as a safety feature for cars on unlit roads to help their vehicle be visible to other driver on the roads.
Frequently asked questions:
Will RimPro-Tec fit on my rims?
The unique formed in radius design used in manufacturing RimPro-Tec means that RimPro-Tecs are a universal fit on wheels ranging from 12" to 22".
 HOWEVER, PLEASE NOTE: The high bond adhesive tape used to attach the RimPro-Tec Wheel Bands to the rims requires that there should be at least a 1/4" (6 mm) smooth, flat surface all the way around the wheel to mount the product properly to the wheel. RimPro-Tec should not be installed If your wheel design does not have an adequate smooth, flat surface required for proper mounting.
An exception that can be made to the above requirement is if your rim design includes regularly spaced cutouts or narrow sections around the rim that are no more than 2" (50 mm) long.  In this case, there does not have to be 100% attachment of the high bond adhesive tape all the way around the wheel. These designs perform well and are covered by our warranty. Example...
Below are examples of wheel designs that do not work with RimPro-Tec Wheel Bands.
Rounded Surface and Spoke
What if I already scuffed my rims?
RimPro-Tec may be used to cover up lightly scratched and scuffed rims. However, their long term performance may be reduced. The damage should not be excessive or in an area more than 3" to 5" (125 mm) in length. If there is any raised up bits of metal in the damage it must be filed or ground down to flush with the rest of the wheel surface so that RimPro-Tec can be applied over it.
The photo below shows the typical amount of curb rash that may be covered up by using RimPro-Tec Wheel Bands:
How well do RimPro-Tec protect wheel rims?
RimPro-Tec are a defensive product intended to reduce the potential for scratches and light scuffs to your rims. A 5 MPH car bumper, they are intended to absorb some of the impact with road hazards in an effort to avoid more serious damage to what is behind them. The same as for your bumper, in many cases the RimPro-Tec will be damaged, but damage to the rims behind your RimPro-Tec will be reduced or avoided.
RimPro-Tec performs best in slow speed maneuvering conditions such as parallel parking and driving into car wash tracks. The best way to think of the value in using RimPro-Tec is like this: Without RimPro-Tec your bare rims are like riding a motorcycle with only a bathing suit on. With RimPro-Tec  your rims are dressed in the equivalent of a leather jacket and leather pants.
How long will RimPro-Tec last?
The current RimPro-Tec® system has been under development for over seven years. RimPro-Tec's installed as long as seven years ago continue to perform without problem in real-life situations. Performance testing indicates that undamaged RimPro-Tec's should commonly last for up to 40,000 miles. However, RimPro-Tec Wheel Bands should be considered a wear item like a window wiper blade. We recommend that they be replaced whenever you replace your worn tires. Color inserts can be taken out in seconds turned over and re-inserted to increase their full color life, or new color inserts may be purchased separately. It is not necessary to replace undamaged black or silver mounting tracks.
Can RimPro-Tec Wheel Bands come off while driving?
Properly installed and securely fastened, RimPro-Tec Wheel Bands do not come off under normal driving conditions. However, they are a wear item on your car. Periodically check the condition of your RimPro-Tec's. Loose color inserts should be fully re-inserted. Damaged RimPro-Tec's should be replaced in full or by spliced in the section that is damaged. It is recommended that RimPro-Tec Wheel Bands be replaced when changing tires on your vehicle, or after 3 years of service life.
All in all RimPro-Tec Wheel Bands is an amazing option to protect your wheels from curb damage while parking and manoeuvring. It is a much cheaper alternative to having to refurb your wheels every time you accidentally curb them while they also make your wheels stand out from the rest with the stylish colorful inserts. We hope that this blog has helped you to understand more about the RimPro-Tec Wheel Bands product. Don't forget to check out our amazing products on our website: Rimpro-tec.com