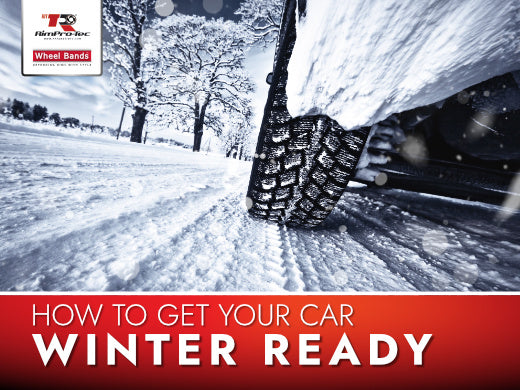 How to get your car ready for winter?
by: Deborah Chester -
How to get your car ready for winter?
It is no wonder that the winter season can be a hassle for some drivers. The cold weather can really have an effect on your car if you have not prepared your car correctly for winter.  Because of these inevitable situations seasons we have put together a list of things to do on your car before the cold and wintery weather starts. Whether it is checking your tire pressure, replacing your wiper blades or using our Bring Back Black plastic restorer to help restore your plastics after a long hot summer. All these things can help you maintain your cars appearance and also get your car safely prepared for winter. Almost every country experiences cold weather when it hits December so it pays to be prepared for the colder season.
Although having a snow experience is a joy for some people, car owners find it difficult. Traveling in snowy weather is not easy. It is best to be prepared even before the winter season approaches. To help drivers get ready for the snowy season, we have narrowed down some useful tips:
          The first thing we suggest you do is to check your window wipers are in good condition and if they aren't you will need to replace them before the heavy rain and snow starts. It is hazardous is you wipers are not working correctly as the rain and snow can obstruct your view while you are driving. During your long drives in the city or suburbs, you may encounter a snowfall. To ensure that your windshield is prepared, use a winter wiper fluid with anti-freeze in it. It is especially made for this kind of weather and will protect your windshield from freezing. Also, it can easily wipe the big blocks of snow overcrowding your sight. 
          The next thing we suggest you do during the winter months is maximise the use of your garage. During the summer months it does not matter if you leave your car outside but it is always better for your car to be sheltered during adverse weather conditions. This can also prevent damage to the car from unexpected hail storms etc.
          You also need to check your engine and battery. Your car experiences a different kind of demand when it's being run in winter conditions. It is better to test out the battery and of your vehicle to see if it is working perfectly fine since it can go through changes during winter. It could also be wise to take your car to a garage to get them to look over your car to make sure your car is in good condition ready for the winter.
Makesure you have the right tires on your car ready for the winter. If you are in the place where there is lots of snow and ice then you want to make sure you have some winter tires on your car. This is so you have improved grip when you are driving on the roads. If you are in a place where it doesn't get too cold then make sure your tread on your tires is in a good condition to avoid slipping or sliding on the roads. You will also want to make sure that your tires are properly inflated.
           Before winter comes, check on your engine coolant and antifreeze system. See if it is still at the right level. You can drop by your nearest automotive store for engine coolant and antifreeze. Just make sure they are all topped up and ready for the winter season.
You should also give your car a much needed clean and refresh after the summer months so your car is looking like new again ready for winter and after the harsh summer months. One thing that you can use to give your car a refresh is our Bring Back Black product which is a plastic restorer. You can use the product on all of your plastics on your car that have faded from the UV rays throughout summer. Our product will leave your plastic looking like new and also protect the plastics from any UV rays once you have applied the product to prevent future fading.
Our products are designed to restore at the same time as protecting and giving back that new look of your rubber, plastic, vinyl, tires, trim, bumpers, interiors, plastic door panels, seals and hoses. BringBackBlack® repels dirt, water, snow, and ice. So once it is applied and dried it will work as a repellent on the plastics to the adverse winter conditions. BringBackBlack® is silicone-free and oil-free and once you apply the product you will not need to apply any tire shines because Bring Back Black will give you the tire shine look. Our BringBackBlack® Restorer lasts for 1 to 2 years so you don't have to apply the product regularly to have all the benefits and have your plastics looking like new.
Our product is great for any automotive vehicle including cars, golf carts, boats and vans
The bring back black comes in a black base coat which you can use by itself to revive your plastics and give them a carbon black finish or you could choose to add one of our top coats which come in a satin or gloss finish. This is to give your plastics that extra shine on top of the carbon black base coat.
You can buy the bottles of Bring Back Black individually or can purchase a kit that comes with all the tools you need to apply the liquid to your plastics. If you have lots of dull plastics to revive you can even purchase it in 5L bottles.
Here is a photo of the products you get in our full Bring Back Black kit: 
What is even better is that our Bring Back Black product can be used on other household/outdoor items such as spa lids, signs or even awnings. Whatever plastics you want to give a new lease of life.
We have attached the step by step guide below on how to apply Bring Back Black to your vehicles plastics.
Make sure you thoroughly wash and dry the area you are going to apply the Bring Back Black product to.
Apply the Bring Back Black base coat reviver (Part 1) to the desired clean silicone free and oil free surface, using the sponge and cloths provided.
Let the first coat of the base coat dry for 10-15 minutes before applying a second coat if needed.
Once your layers of base coat have dried then you can apply a layer of your chosen top coat (Gloss or Satin) if you wish to.
Things to remember when you are using our Bring Back Black product.
If you overlap or drip the Bring Back Black product onto your paint work be sure to wipe it off with a damp cloth immediately.
Do not apply the Bring Back Black product in direct sunlight or in the rain.
Rinse the sponge applicator between each application of the different coats.
Do not allow water contamination until the Bring Back Black is completely dry.
If eye contact occurs be sure to rinse your eye thoroughly with clean water.
Keep our Bring Back Black product out of reach of children.
Do not store our Bring Back Black products in the direct sunlight or anywhere where temperatures reach 40 degrees Celsius.
How to apply our Bring Back Black product:
Here is a photo of our Bring Back Black products in action. You can see the before on the plastic at the bottom of the rear bumper compared to the after which shows the product on the plastic around the wheel.
All in all it really pays to get your car winter ready to ensure your car is ready to face the adverse weather conditions. The cold weather can really take a toll on your car if it is not ready. You have to ensure everything is in working and pristine condition in order to safely drive your car in wintery conditions. Like mentioned above it is also the perfect opportunity to give your car a thorough clean up and restore. You can do this by using our range of RimPro-Tec Wheel Bands products. We have lots of products in our range that you can use to look after your car. Ranging from rim protection, paint protection films, microfiber towels, PPF & Tints installation tools and of course our Bring Back Black plastic restorer.
Check out our website to see our full range of products.
www.rimpro-tec.com