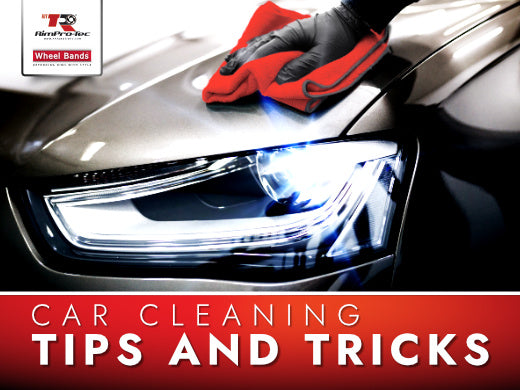 Best Car Cleaning Tips and Tricks - RimPro-Tec
by: Deborah Chester -
Most people spend a lot of time in their cars whether its driving to and from work, taking your kids out for a fun filled day or taking your dogs for a walk on the beach and naturally over time the cars can get dirty. Your car can take a beating after everyday use but cars are such a big investment that they should be taken care of. Here at RimPro-Tec Wheel Bands we are all about car care and have some amazing products that you can use to help keep your car looking amazing. One of our products is our microfibre towel. Our microfibre towels are the perfect option for you if you want to take care of your car.
Our RimPro-Tec premium microfibre valet cloths work great on any surface. Our cloths can be used in many different situations when cleaning your car. You can use it in the interior of your car when polishing it, you can use the cloth when you are cleaning it or drying it and you can even use the cloth to wax and polish your car. This cloth is really universal when it comes to looking after your car.
Our Microfibre valet cloths are guaranteed for 3 years because we truly believe they are one of the best microfibre towels on the market. They are a big valeting cloth measuring 38cm x 45cm. The great thing about our cloth is that it can also be used inside the house as well as for your automotive vehicles, so you truly can get lots of use out of this cloth. Both sides of the cloth have plush layers of microfibre filament to lift dirt, dust and grime with ease because our cloth is so soft and absorbent it provides a streak free finish. Normal cloths move dirt around surfaces when you are washing them which in turn leaves unwanted smudges and smears where as our microfibre towel removes the dirt leaving a streak and smudge free finish.
Our microfibre cleaning cloth aren't the only household item you can use to keep your car in amazing condition. We have also put together a list of car cleaning tips and hacks using household items so you can look after your car and get it looking clean and tidy again.
-You can use toothpaste on your cloudy and dirty headlights to clean them and get them looking clear again. Just apply the toothpaste with a cloth in circular motions and then once the toothpaste has been applied to all the lights you can wipe the toothpaste off to reveal your clear headlights.
-If you ever need to remove any stickers or decals from your car you can use a hair dryer to loosen the adhesive to allow you to use a plastic card to get under the edges and the you can peel away the sticker without it leaving any damage to your car.
-Use a coffee filter or tumble dryer sheet to dust the interior of your car. These are an easy and convenient way to dust your car as you can keep a pack of either in your centre console for easy grabbing for whenever they are needed.
-You can make a home made cleaning solution for upholstery in your car by mixing half a cup of distilled white vinegar, one teaspoon of washing up liquid in a spray bottle. Make sure to label the solution so you don't get it confused with other cleaning supplies. Start by vacuuming your upholstery to remove as many crumbs/dirt on your seats as possible. Lightly spray the seats with the pre mixed solution and use a cloth to wipe down the fabric. We recommend that you test the solution in a small unseen bit of the upholstery beforehand to make sure the solution doesn't discolour the material.
-You can use a travel cup and old clean sock to clean out your cup holders. Simply put the sock over the cup, spray the sock or cupholders with an all purpose cleaner and put the sock covered cup into the cup holder and twist the cup to clean any spills or dirt out of the cup holders.
-Use a small amount of Vaseline on a cloth and rub it in to your dashboard and other interior surfaces to condition the surfaces, keep the surfaces from cracking and to keep the interior surfaces looking like new.
-You can use cotton wool buds to clean and dust hard to reach areas like air vents and car badges.
-If you take your pets to places in your car you can use a spray bottle with water to spray the seats and carpets and then use a squeegee on the seats and carpets of the car to sweep up any animal hairs your furry friends left behind.
-If you are struggling to clean hard to reach areas you can use slime to clean them by laying the slime on the area you want to pick up any hard to reach dirt or dust.
-You can use a toothbrush or small paint brush to clean and dust the air vents in your car.
-You can use your used dryer sheets to remove dead bugs off the front of your car. That way you are getting a double use out of the dryer sheets.
-Cupcake liners fit into cup holders. This is a good tip to remember because it will make all future cleaning of the car easier. You can just throw out the cupcake liner and replace rather than having to spend extra time cleaning the dust, spilt drinks etc out of the cup holders.
-If you have any unwanted smells in your car, you can sprinkle baking soda over the seats and carpets and let the baking soda sit for a few hours. The baking soda will work to neutralise the smells. After a few hours you can vacuum up the baking soda and the odours should disappear with it.
-Use a plastic restorer to get your black plastic on your cars looking like new. (RimPro-Tec Wheel Bands offers one that produces amazing results.)
-If you have a new vehicle and want to keep the car in pristine condition you should take preventative measures to keep your car the way you want to. Things like paint protection films and wheel protection are the type of preventative measures you should take.  
Like mentioned above, here at RimPro-Tec Wheel Bands we aim to provide products that help you keep your car in pristine condition. We offer everything from wheel protection for when you are parking and manoeuvring, plastic restorer to get the plastics on your car looking like brand new again, paint protection film and tints to protect your paint and keep it looking it's best and we even offer all the paint protection film and tints tools you would need. Afterall a car is a big investment so you want it to keep it's value by keeping the car as nice as you can.
Check out our website to see all of our amazing products that can help you keep your car in pristine condition.
www.rimpro-tec.com